The Montgomery ISD Education Foundation is ready to host our annual Spring Soiree!! New Name, Same great event! 
This fundraiser enables us to raise money to give back to MISD in the form of Educator Grants to promote creative ad innovative ways to learn in the classroom. The Spring Soiree promotes community fellowship and raising awareness for campus specific grants from each of our MISD principals. Last year we were able to surprise our principals and gave away TWO GRANTS. We plan to do the same thing this year!
 Register to Sponsor or Attend HERE!
We look forward to seeing you out at the Old Community Center in Historic Montgomery to support our school district and the Education Foundation on Saturday, April 23rd!
CAMPUS HUSTLE TCKETS ARE ON SALE!
Let the Hustle Begin!!! The elementary and secondary campuses with the most "Campus Hustle Tickets" will be awarded their Campus Grant by the MISDEF at the Spring Soiree!
Check out the Campus Hustle videos from our principals below! Let the hustling begin.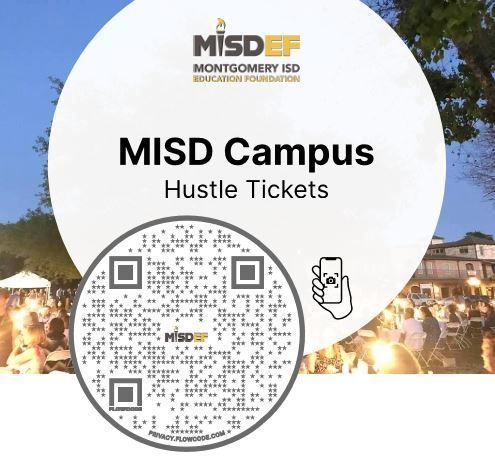 Specialty Sponsorship Opportunities:
(Please review the registration form for what is available) 
Presenting Sponsor | $5,000 (Only 1 Available)
· Three Reserved Tables – Premier seating for 24
· MISDEF Social Media Marketing and Print
· Logo on all event materials and tables
· Recognition on main stage & entry banners
· Ability to be on stage when MISDEF awards the Principal Grants
Band Sponsor |$3000 (Only 1 Available)
· Two Reserved Tables-Premier Seating for 16
· MISDEF Social Media Marketing and Print
· Recognition on stage banner
· Logo on event signage
Bar Sponsor | $1500 (Only 3 Available)
· One Reserved Table- Premier seating for 8
· MISDEF Social Media Marketing and Print
· Name recognition at one bar
· Logo on event signage
Catering Sponsor |$1500 (Only 1 Available)
· One Reserved Table- Premier seating for 8
· MISDEF Social Media Marketing and Print
· Name recognition at food line
· Name on event signage
Campus Hustle Team Sponsor | $1000 (10 available for each campus)
· One Reserved Table for Campus Admin- 2 tickets allotted to sponsor
· MISDEF Social Media Marketing and Print
· Name recognition on table and campus hustle lanyards throughout event
· Name Recognition on Campus Hustle banner
Silent Auction, Gift Card Shuffle, Wine Pull, Dessert, and Coffee Sponsor | $750 (Only 1 Available each)
· Name recognition at Silent Auction tent
· MISDEF Social Media Marketing
· Name on event signage